In our latest "Back to the Future" blog, we time travel with QA Engineer graduate Tomáš Ferenčík who has been working in 24i's Brno office for almost a year. We'll find out why Tomáš chose to have this exciting journey with 24i, what it's like to work remotely with an international team, and how being a QA Engineer is like operating traffic lights!
Past
You are from Slovakia, can you tell us why you decided to study in Czech Republic? What's the biggest difference compared to Slovakia?
I always wanted to study economics, especially finance. After high school, I had to decide where to go. I knew the Czech school system is a bit different from the Slovak and also many of my friends went to the Czech Republic, specifically to Brno. It's actually the nearest Czech city to my hometown so it's not that far away. From Universities I had two options, Masaryk and Mendel University. Both have very outstanding reviews, so I sent a university application. In the end, I decided to study finance at Mendel university.
You have some experience in customer management prior to working with 24i, what was the most difficult part of that work?
The human factor. I encountered a lot of angry customers in my past job and that was the most challenging for me. I had to learn to tolerate the behavior of upset and annoying customers. Working with them was very stressful. I had a big responsibility for their financial situation. It was my first impulse to do something different, but on the other hand, I did improve my communication and sales skills, which could be beneficial for future challenges.
You were studying economics and management, why did you choose to apply for a QA engineer position?
After my experience with customer service, I wanted to try something different. During my studies, I started coding by myself at home. I was always curious about programming languages, especially Javascript and Python. Also, my very good friend from my hometown worked as a developer for 24i, so he reached out to me and suggested I apply for a graduate position as a QA. He told me that I can't lose anything for trying and here I am now. But I'm still in the process of learning. It's a never ending story.
In the hiring process, you had to go through some interviews and tasks. What was that like?
The most difficult part for me was communication in English. It was the first time I used a foreign language in my interview and in general at work. So this part was challenging. The most pleasant part was the assignment. I had to test a real application, find as many bugs as possible and suggest potential improvements. I think I described all my steps accurately and also recorded the issues. I spent a lot of time on the assignment, but it was worth it.
Present
What has been the biggest challenge in your graduate programme so far?
The biggest challenge is still going on. My current assignment is focused on automation testing. For QA it's a big privilege. It opens up possibilities for self-improvement and pushes the boundaries at another level. Also for the company, it is one of our main goals to make increased use of automated testing and will be very beneficial. I'm still improving my coding skills because I can use them in creating my test cases.
Are you colleagues sharing their own experience with you?
Definitely. For me it's my first job in the IT sector and I am very keen to learn as much as possible. In the company, we could choose between two options: stay at home or work from the office. I chose the second option and the main reason was to be closer to my colleagues who play a very important role in my improvement. In the office there are many developers, QA testers, etc. We can share our thoughts and skills together and it's really helped to speed up the growth of my knowledge. I would like to keep going to the office and meet new people, hear about their stories and share their experiences.
24i has many locations. How are you dealing with working over long distances?
Many members of the QA team are based in the Amsterdam or Madrid office, so we have to communicate online in most cases. Our processes are well established for smooth communication and team working. Sometimes in difficult situations, it's hard to figure out or solve problems, or it takes a little longer than when we were together physically in the office, but the work is adapted to the online environment.
Your QA position has a big responsibility and an important role in preventing mistakes in our products. How is this process working?
It's like a traffic light, as a QA Engineer you have to give a green light if the application is prepared for production or not. If you find any bugs or inconsistencies, you immediately report it and move the ticket straight to the developer and then they can fix it or you can discuss any misunderstandings together.
You have an office in one of the 24iTest Labs with more than 200 TVs on the wall. Doesn't it tempt you to turn on your favorite TV show or movie and watch it all day long?
Haha! It's tempting sometimes, but mainly I focus on finding bugs, issues, or inconsistencies in the applications, rather than the content. But whenever I find an interesting-looking TV show during testing of an app, I always add it to my watch list which is getting quite long now! The customer comes first and then the fun. On the TVs in the lab we are testing different streams and we still have to concentrate on quality and whether there are any issues or bugs that pop up. Every TV behaves a little differently, that's why we have so many of them to test on.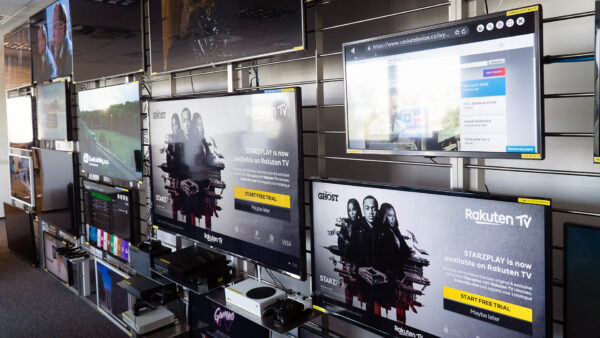 Future
You're now half way through the graduate programme. What other professional goals do you have for the upcoming year?
My main goal is to finish the automation in projects and be more engaged in automation across teams. Another goal I want to reach is improving my coding skills, which can be useful in automation. Also, we are looking forward to using more complex tools in general for development. I want to continue doing things which I really enjoy but also I want to be engaged in more projects and constantly improving my knowledge in this branch and unifying with other QA's.
Where do you see yourself in 10 years from now? What would be your ideal status, job and location?
It's quite a long period of time, but I would like to be more involved in coding. So maybe experience as a developer should be beneficial for the future. I have always wanted to have my own team and take on some challenges. Definitely, as a manager, I will need all abilities – QA skills, experience as a developer, and also communication skills. That's my future plan.
What are the main advantages of this kind of programme? Why would you recommend it for the fresh graduates?
One of the main benefits is freedom. You can choose your area, what you like and you have time for doing your assignments and it really doesn't matter if you are junior or senior. The #futureisbright graduate programme is an excellent beginning and as we increase our skills and capabilities, the graduates are helping to push the company to the next level.