24i has a long-held reputation for brilliant parties, but it's not something they've been able to do during a global pandemic. So, as restrictions slowly eased, employees were keen to get together and celebrate. Marketing graduate in the Brno office, Patrik Muszka talks about what it was like to be on the team organising not just one but two big parties.
Our assignment was clear: with 24i's Brno office celebrating its 5th year anniversary, all of the group's senior managers were flying in and we wanted to have a great party. The HR, Finance and Marketing teams brainstormed the essentials, with food and drinks top of the list. Following the acquisition of Danish company Nordija by 24i earlier in 2021, we have a new member of the marketing team, Nika, who is really experienced in organising events and I learned a lot from her.
First we needed to choose a caterer, DJ and bartender. After such a long time with no events, our previous suppliers weren't available so we needed to do lots of searching online and go with our instinct. But we also needed a theme for the decorations and dress code. Of course nothing fits our business better than good movies and TV Shows, so we went with a Hollywood theme. We had to act fast and time flies when you are focusing on one event. The main thing I learned was not to leave anything to the very last moment unless you really enjoy stressful situations!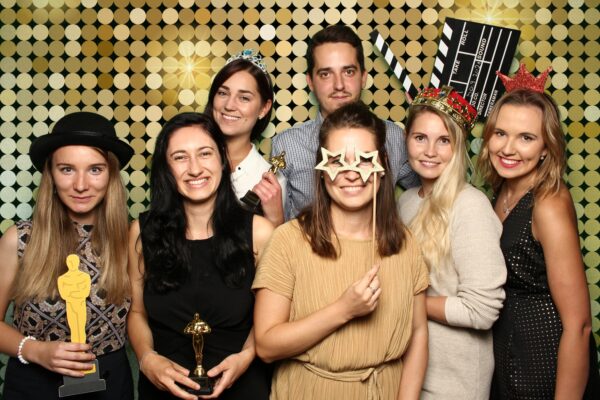 Balloons not bullets for the marketing team
The big day came and while the rest of the Brno team were enjoying a paintballing and tank-driving experience at the local Army Park, we were busy decorating the office to match the Hollywood theme. From what I heard, the tank driving was really interesting and the paintballing was a bit painful! But we were certainly keeping fit with all the running around to get things ready. After all the balloon fillings and hanging all kinds of decorations, the finishing touches were to make some popcorn, roll out the red carpet and pour the champagne!
Everybody was amazed how the office had changed. Of course the bartender with his really fancy drinks and amazing show added some sparkle, plus the DJ with a good playlist and colorful lights. Everybody was really happy to see each other and to meet their colleagues in person after so much working from home. The photobooth with a green screen was really popular, with everyone able to experience the magic of movie creation.
Our CEO Joachim and Group CEO Donald both gave a speech and we brought in a huge cake with candles that celebrated not just the last five successful years of the Brno office, but also the years that are to come. It was a huge amount of hard work to get the party ready, but it was certainly worth it to see everyone enjoying themselves.
Another week, another party
During preparations for the Brno event I got an invitation to visit our Amsterdam HQ for a branding workshop, but also to help with the organisation of another party! I'd been looking forward to visiting other 24i offices ever since my interview, so it was an offer I could not refuse now that the restrictions have eased enough to make it possible!
Amsterdam has been on my bucket list for a while so it was extra special, on top of my excitement at visiting the headquarters of 24i. Meeting the rest of the marketing team for the first time after this long period of working together was really great and I think we bonded well immediately. There were so many nice things to explore in the city and I got the chance to feel for a little while like a real Dutch person riding a bike among the canals and those really beautiful but narrow houses. According to my colleagues I couldn't leave Amsterdam without eating crispy meatballs called Bitterballen and trying hot Stroopwafels, which are two thin waffles stuffed with sweet caramel-like syrup!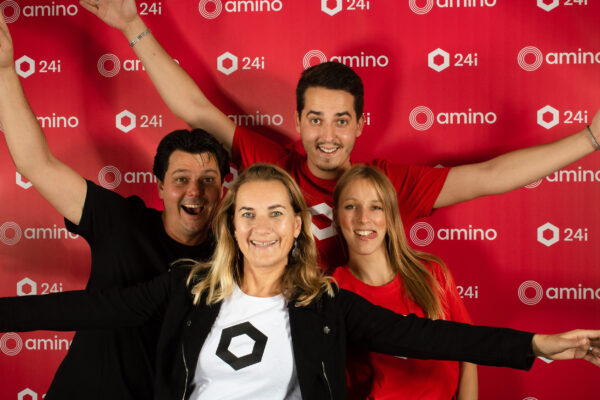 The sweet smell of event success!
When it came to the party organisation, the Amsterdam Team did the most of the job and I was just helping out on the day of the event. Luckily, there I had a chance to try out the laser game. Once again we'd gone for a Hollywood theme and the smell of salty popcorn mixed with the overflowing candy selection created just the perfect atmosphere of the movies! We also had movie posters that we'd created specially for the two events, where our board members had been face swapped into the posters for well known movies. We had 24i co-founder Hans Disch playing the role of James Bond and Chief Marketing Officer Madelon Olsthoorn as Captain Marvel!
Meeting the management team and some of the board members in two different locations in short succession was really interesting. It was nice to see that they are interested in the employees as individuals and they made an effort to have at least a small chat with each of us.
These two exciting weeks full of organisation, planning and meeting colleagues in person created memories which will last a long time. Hopefully we'll now be able to organise more events, both large and small, where we can find out more about our colleagues. I am really looking forward to that!